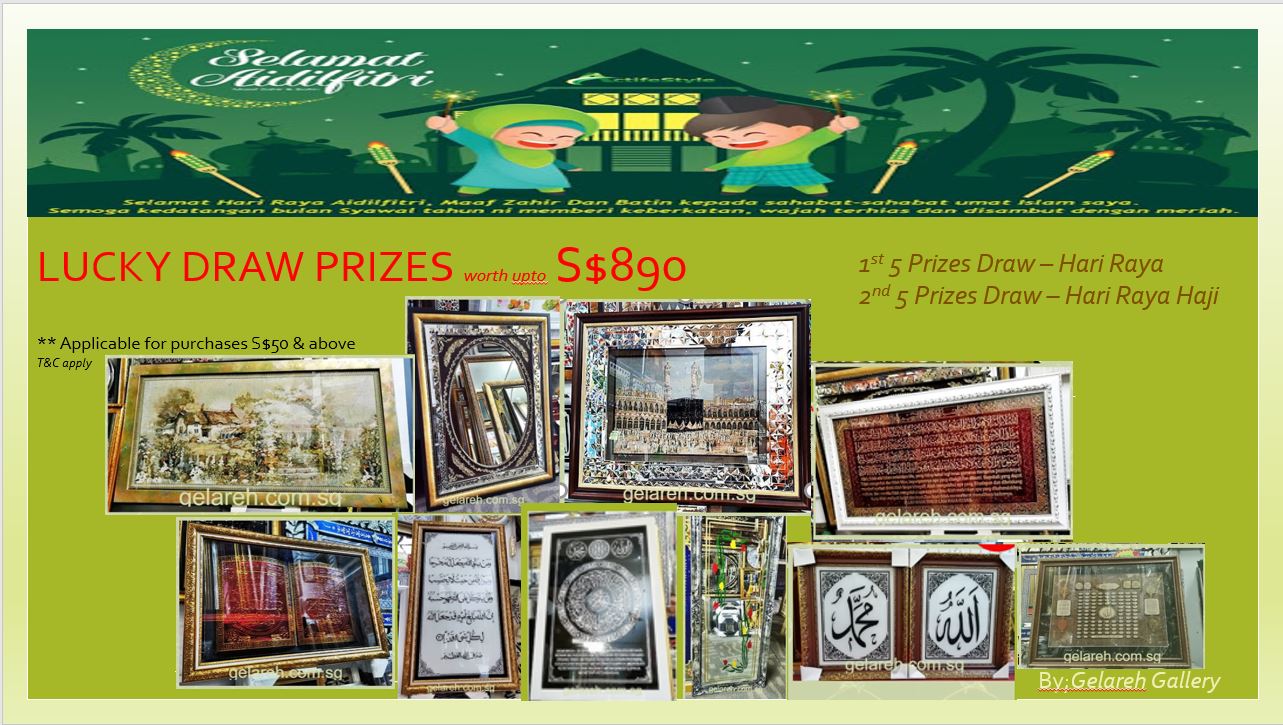 This is our first lucky draw as the appreciate to all our customers who had been supporting us all these years. In view of the current Covid-19, we would like to urge all of you to stay safe & stay home.
We'll run these 2 lucky draw events through our Facebook Live. Therefore, do follow us for our update on the date & time.
We'll arrange the prizes to be deliver to your good door step as per registered shipping address on your purchase(s).
How to be entitle to be enrolled in our lucky draw?
Purchase from us S$ 50 & above (excluded delivery fee) will entitle for 1 lucky draw ticket. Eg Purchase amount S$102 = 2 lucky draw tickets
Valid for purchase(s) with us through Facebook, Facebook Live, Gelareh e-commerce website and Carousel ONLY
Terms and Conditions
1. These terms & conditions ("Terms and Conditions") shall apply to "Lucky Draw for HARI RAYA & HARI RAYA HAJI 2020" organised by Gelareh Pte Ltd "Gelareh"
By registering or taking part in this Lucky Draw, you agree to be bound by these Lucky Draw Terms and Conditions and the decisions of Gelareh in relation to and in connection with this Lucky Draw.
a. Valid for purchases from 24th Apr 2020 onward till 30th Jul 2020
b. No limit on your purchase items
Prize
2. Subject always to these Terms and Conditions, to be eligible to participate in the Lucky Draw
i. Auto enroll for all purchases that is valid and settled fully payment before lucky draw event.
3. Gelareh reserves the right to, at any time and in its sole and absolute discretion, replace and/or substitute any of the Prize(s) with any other item of a similar value.
4. There will be ten (10) Lucky Draw winners in total and will be split into 2 draws. The winners for the Lucky Draw ("Winners") will be drawn at random on our Facebook Live. Date & Time to be confirm.
5. All Winners shall be notified by phone at their phone number and shipping address as indicated in the purchase(s) within fourteen (14) calendar days of the Draw Date.
6. Gelareh will agree with the Winner on the date to redeem the Prize. If a Winner fails to rectified, his/her respective prize will be forfeited (without any liability on the part of Gelareh to any person).
7. Prizes that are not redeemed within thirty (30) calendar days from the Draw Date will be forfeited. No correspondence or claims will be entertained in the event of such forfeiture. A Participant whose prize has been forfeited shall not be entitled to any payment or compensation whatsoever from Gelareh.
8. Reserve winner(s) will be drawn to replace any winners(s) subsequently disqualified.
9. Prizes are not transferable, or exchangeable for cash, credits or any other item or otherwise, either partially or wholly.
10. For non-muslim customers, we'll convert the Islamic Art Frame item into Mirror for you, without additional charges
11. The Winner of any Prize shall be responsible for all ancillary and additional costs arising from the use of the Prize, insofar as these are not specifically indicated as part of the Prize.
General
12. The decision of Gelareh on all matters relating to or in connection with the Lucky Draw are final, conclusive and binding. Gelareh shall not be obliged to give any reason or enter any correspondence with any person on any matter concerning the Lucky Draw.
13. Gelareh reserves the right at any time in its sole and absolute discrtion to determine and/or amend or vary these terms and conditions without prior notice, including but not limited to cancelling, extend, terminating or suspending this Lucky Draw, the eligibility terms and criteria, the selection and number of winners, and the timing of any act to be done, and all Participants shall be bound by these amendments.
14. Gelareh shall not be responsible for any injury, loss or damage suffered as a result of or in connection with the Lucky Draw and/or redemption or use of the Prizes howsoever arising, including but not limited to, fulfillment of the prize(s), any error in computing chances, any breakdown or malfunction in any computer system or equipment, any notice which is misdirected and/or lost in the post, loss of income, profits or goodwill, direct or indirect, incidental, consequential, exemplary, punitive or special damages of any party including third parties howsoever arising whether in contract, tort, negligence or otherwise. For the avoidance of doubt, cancellation, termination or suspension by Gelareh of this Lucky Draw shall not entitle any party to any claim or compensation against Gelareh for any and all losses or damage suffered or incurred as a direct or indirect result of the act of cancellation, termination or suspension.
15. In the event of any inconsistency between these Terms and Conditions and any advertising, promotional, publicity and other materials relating to or in connection with the Lucky Draw, these Terms and Conditions shall prevail.
16. The Lucky Draw and these Terms and Conditions shall be governed by the laws of the Republic of Singapore and all Participants (including the Winners) are deemed to have agreed to submit to the exclusive jurisdiction of the Singapore Courts.
17. A person who is not a party to any agreement governed by these terms and conditions shall have no rights under the Contracts (Rights of Third Parties) Act (Cap 53B) to enforce any terms of such agreement.